ESSENTIAL FAR INFRARED SAUNAS
Our Nordic Spruce cabins are the perfect combination of classic design and modern technology: All Essential cabins are made from eco-certified wood and come fully equipped with a pre-installed music system and our unique far infrared heaters. Providing the perfect place to relax and soak up the healing infrared heat
True Wave  carbon-ceramic far infrared heaters
Low EMF/ELF Technology
Grade A Nordic Spruce cabin
integrated Sound system
Built in Floor Heater
Standard Chromotherapy
 Essential One Person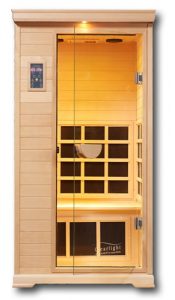 Dimensions  100cm wide x 112cm deep x 195cm high
Essential Two Person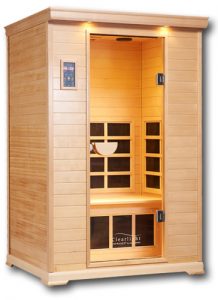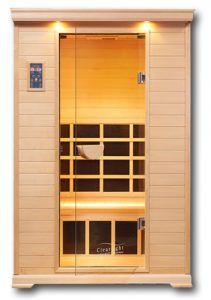 Dimensions  127cm wide x 112cm deep x 195cm high
Essential Three Person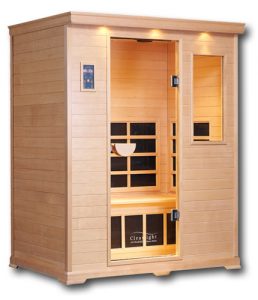 Dimensions  155cm wide x 112cm deep x 195cm high
Essential Three to Four Person Corner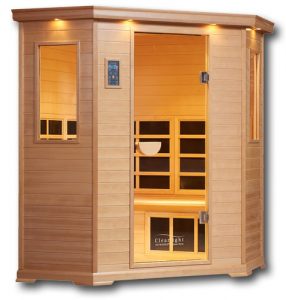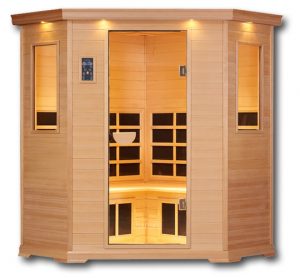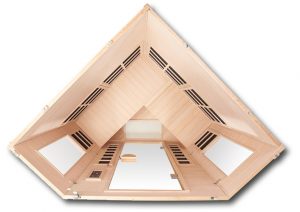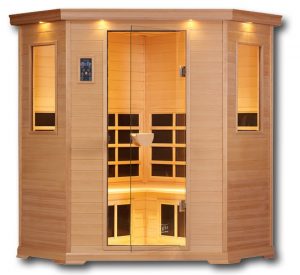 Dimensions   155cm back x 127cm front x 72cm side x 195cm high
---
PREMIER FAR INFRARED SAUNAS
The Premier cedar wood sauna has been Clearlight's main sauna line for the last 20 years, with a timeless look and high quality construction, this sauna really is unmatched and perfect for use at home.
True Wave  carbon-ceramic far infrared heaters
Low EMF/ELF Technology
Grade A Eco-certified Cedar Wood Cabin
integrated Sound system
Built in Floor Heater
Standard Chromotherapy
Built in Ergonomic Bench  and Backrests
Premier One Person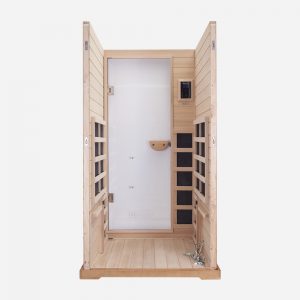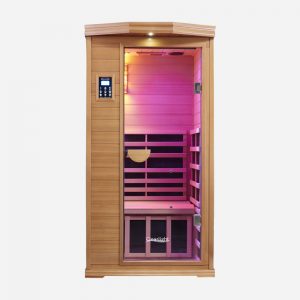 Dimensions  102cm wide x 112cm deep x 193cm high
Premier Two Person
Dimensions  127cm wide x 112cm deep x 193cm high
Premier Three Person
Dimensions  155cm wide x 112cm deep x 193cm high
Premier Corner Three to Four Person

Dimensions   155cm back x 97cm front x 86cm side x 193cm high
Premier Four to Five Person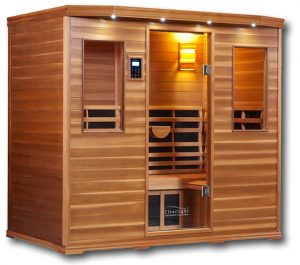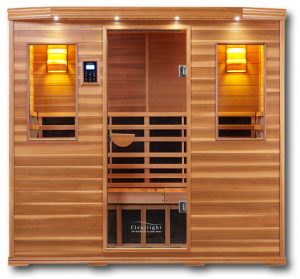 Dimensions  211cm wide x 124cm deep x 193cm high
---

SANCTUARY FULL SPECTRUM SAUNAS
With contemporary design and groundbreaking innovation, the Clearlight Sanctuary® Saunas are unlike any other. They are the only true Full Spectrum Infrared Saunas available offering advanced near, mid and far infrared technologies. Our robust True Wave Full Spectrum heating system provides all wavelengths 100% of the time to optimise your sauna session. The state of the art digital sauna control works in concert with our sleek tablet/smartphone app to gives you the ability to control your sauna remotely.
True Wave  carbon-ceramic far infrared & Full Spectrum heaters
Low EMF/ELF Technology
Grade A Eco-certified Cedar wood cabin
High end integrated Sound system
Built in Floor Heater
Medical Grade Chromotherapy
Built in Ergonomic Bench  and Backrests
Remote Control via App
Sanctuary One Person
Dimensions  112cm wide x 121cm deep x 196cm high
Sanctuary Two Person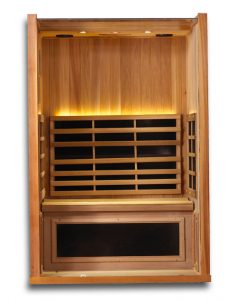 Dimensions  132cm wide x 121cm deep x 196cm high
Sanctuary Three Person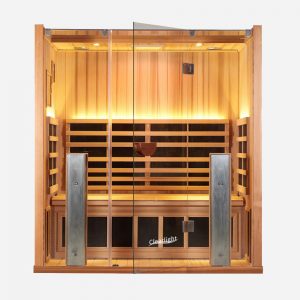 Dimensions  181cm wide x 121cm deep x 196cm high
Sanctuary Corner Four  Person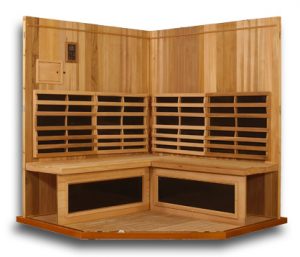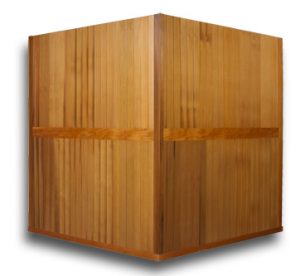 Dimensions   180cm back x 122cm front x 94cm side x 196cm high
Sanctuary Yoga  Four Person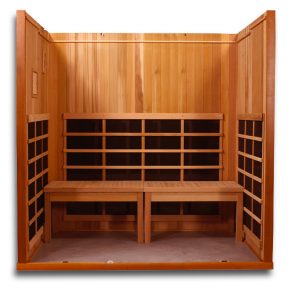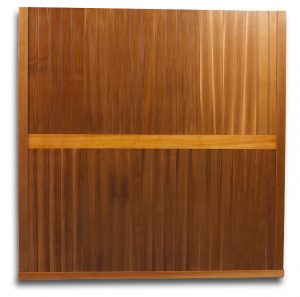 Dimensions  193cm wide x 149cm deep x 196cm high
Sanctuary Retreat Wheelchair Sauna
Dimensions  194cm wide x 164cm deep x 217cm high
---

 The ideal outdoor sauna available as either two person or five person  with a truly high quality specification.  Cedartec™ exterior with Eco Certified Western Red Canadian Cedar interior 8 mm thick tempered safety glass: doors & windows
True Wave  carbon-ceramic far infrared & Full Spectrum heaters
Low EMF/ELF Technology
Grade A Eco-certified Cedar wood cabin
High end integrated Sound system
Built in Floor Heater
Medical Grade Chromotherapy
Built in Ergonomic Bench  and Backrests
Remote Control via App
Sanctuary Outdoor two person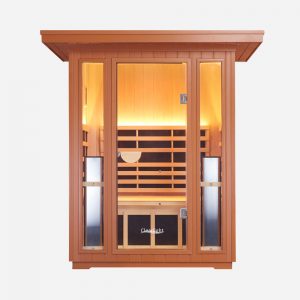 Note outdoor waterproof plug socket required
Sanctuary-Outdoor-2-person Specification-Pack
Sanctuary Outdoor Five Person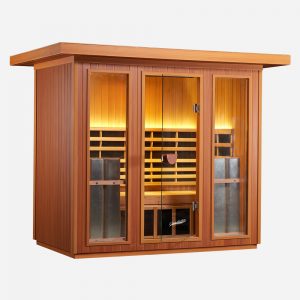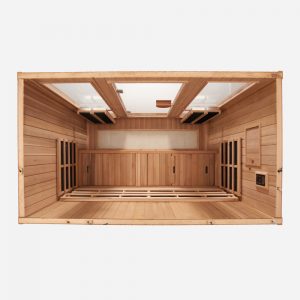 Note outdoor waterproof plug socket required
-Sanctuary-Outdoor-5-personSpecification-Pack